Wind River Pack Goats is a wilderness outfitter in Wyoming. All of the client's supplies are carried on people-friendly goats attended by knowledgable wilderness guides. The site gives the dates of upcoming pack trips, the rates for hiring a goat team, and offers goatpacking gear for sale.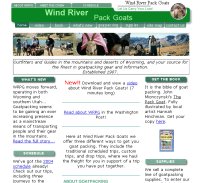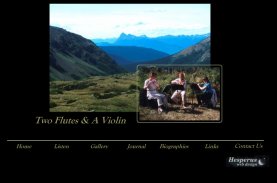 Two Flutes & A Violin is a performance trio in British Columbia that specializes in original compositions as well as arrangements of traditional tunes and classical pieces. Their website has downloadable audio tracks (real Audio and MP3), biographies of the artisis, a gallery of photographs and a journal of memorable events.
I design new websites, and I also do web site repair and maintenance. For a cost estimate on creating the website you have in mind, please contact Morgan at mjh[at]hesperus-wild.org.